We are taking the utmost care and consideration for all the children, families, and staff, as well as the general community's health and safety. Below are some of the safety protocols we have adopted to meet various Covid-related guidelines and regulations. More details can be found in our handbook.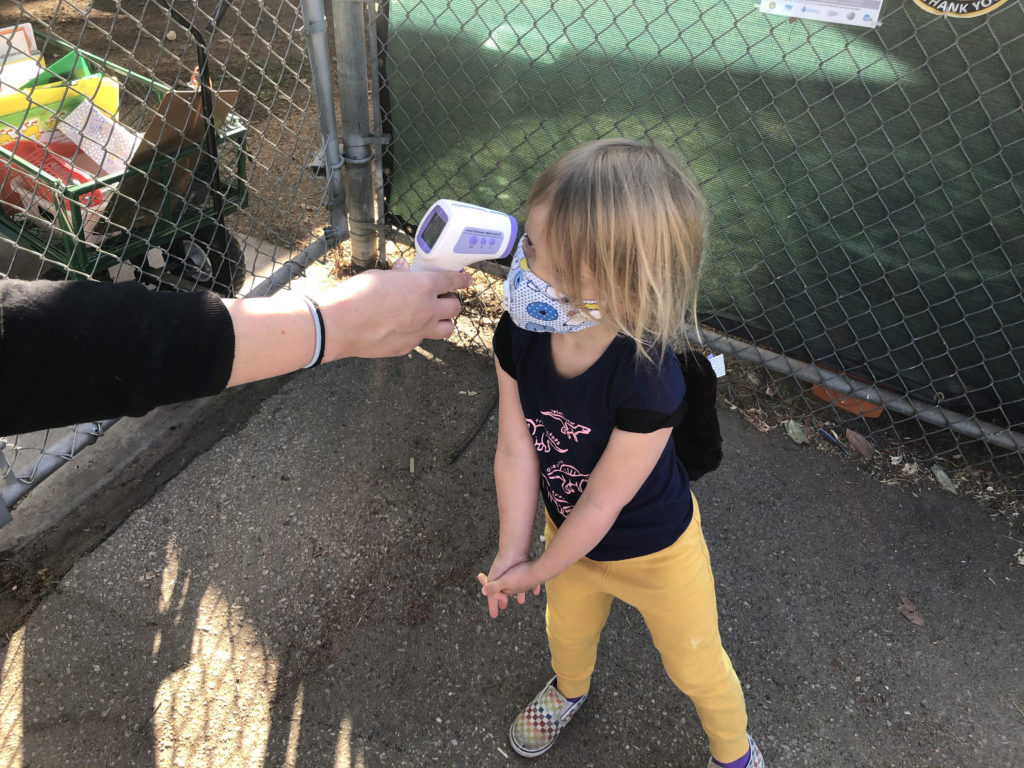 DROP-OFF / PICK–UP PROCEDURES
Upon arrival at the school, teachers conduct a visual wellness check and temperature check of all children and caretakers.
Families have designated drop off/pick up times, in order to stagger arrivals and departures, and social distancing, as well as mask wearing, is required when dropping off and picking up children. Families are encouraged to social distance and wear a mask when dropping off or picking up children.
Class size
Class sizes are limited to 13, with 2 teachers per class. Children and teachers remain in the same group throughout the day, and there is no co-mingling between groups. The two groups alternate between the front and back yards, morning and afternoon, and those spaces are cleaned and disinfected between each group.
Physical Distancing
Both outdoors and in the classroom, we strive to keep physical distance of 6 feet between children and adults as best as possible, by arranging the environment and planning activities that allow for distance. Spacing instructions occur in ways that are developmentally appropriate and easy for children to understand. We have also installed air purifiers with HEPA filtration in all indoor rooms.
Toys and Other Classroom Materials
Toys and learning materials are sanitized between use.
Face Coverings/Mask Policy
All staff must wear masks, and masks are recommended for children 2 years and older. We do our best to encourage children to keep masks on, though it is not required. Face shields may also be used for children.
Hand Washing Policy
Our hand washing policies follow the strict guidelines and rules proposed by the state and county Public Health and Community Care Licensing. We will continue to follow those guidelines with increased frequency of washing. We pay special attention to situations and times that may need even more frequent hand washing.
Hygiene Policy
Food Hygiene: We do not offer snacks at this time. Families pack 3 snacks and 1 lunch per day, per child in containers that are easy to open. This decreases any possible contamination from others trying to assist with mealtime.
Surface Hygiene: All classrooms, bathrooms, outdoor play spaces, and all indoor facilities have been deep cleaned and sanitized. We will continue to deep clean and sanitize regularly. Classrooms are cleaned and/or disinfected more frequently during the day.